ENGAGEMENT RING
THE ULTIMATE GUIDE
From learing how to choose a diamond and select a setting and design
to choosing precious metal options and finding the ring size,
this is the ultimate guide that will help you find the way
to your perfect engagement ring.
First Thing First - Set the Budget
When selecting an engagement ring, a great place to start is with your budget. Deciding on a budget early
ensures you find the perfect engagement ring within your price range.
LEARN MORE ABOUT WAYS TO MAXIMIZE YOUR BUDGET >
Master the Basics of Diamonds - 4 C's

There's a lot you can learn about diamonds before you even set foot in a jewelry store.
Start with the 4Cs – Color, Clarity, Cut and Carat Weight – so you understand how each influences
the value of the diamond and adds to the overall appearance of the stone. You'll learn what is most
important to you and where you might want to compromise to fit your price range.
LEARN MORE ABOUT THE 4 Cs OF DIAMONDS >
Start by Shape

Your engagement will last a lifetime, choose the diamond shape that reflects your style and personality.
LEARN MORE ABOUT EACH DIAMOND SHAPE >
Ring Styles & Designs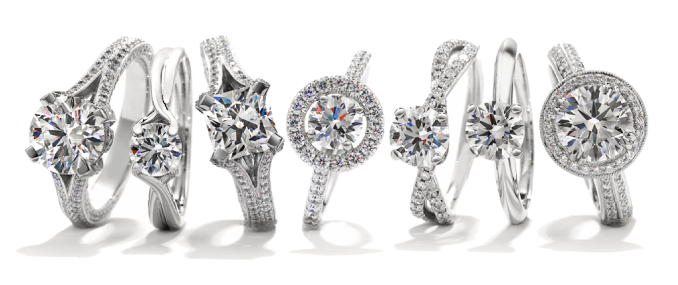 There is a broad range of setting styles and design features, but we'll help you narrow down the options
by taking into account your style preference s, lifestyle, and personality.
LEARN MORE ABOUT STYLES & DESIGN ELEMENTS >
Precious Metal Choices

Explore our metals guide to learn the benefits and features of different precious metals like platinum and gold.
Then consider personal preferences to decide on the best metal for you and your budget.
LEARN MORE ABOUT PRECIOUS METAL CHOICES >
Find Her Ring Size
f you don't know your partner's ring size, that's no problem at all. We'll teach you a few simple tips
and tricks that can help you figure it out.
LEARN MORE ABOUT HOW TO FIND THE RING SIZE >